This is where things get really exciting, and where much of the value is delivered by implementing eCargo's software. If you currently spot check freight invoices, or manually reconcile line by line, eCargo will automate that task for you. If you cannot get an accurate accruals figure for freight costs, eCargo will deliver that to you.
eCargo automates the process of reconciling freight invoices using actual freight movements, agreed freight rates and allowed variances. It provides a clear business process to manage exceptions.
Alternatively use eCargo's software to issue buyer created invoices at the click of a button for self billing, removing the need to reconcile supplier invoices at all.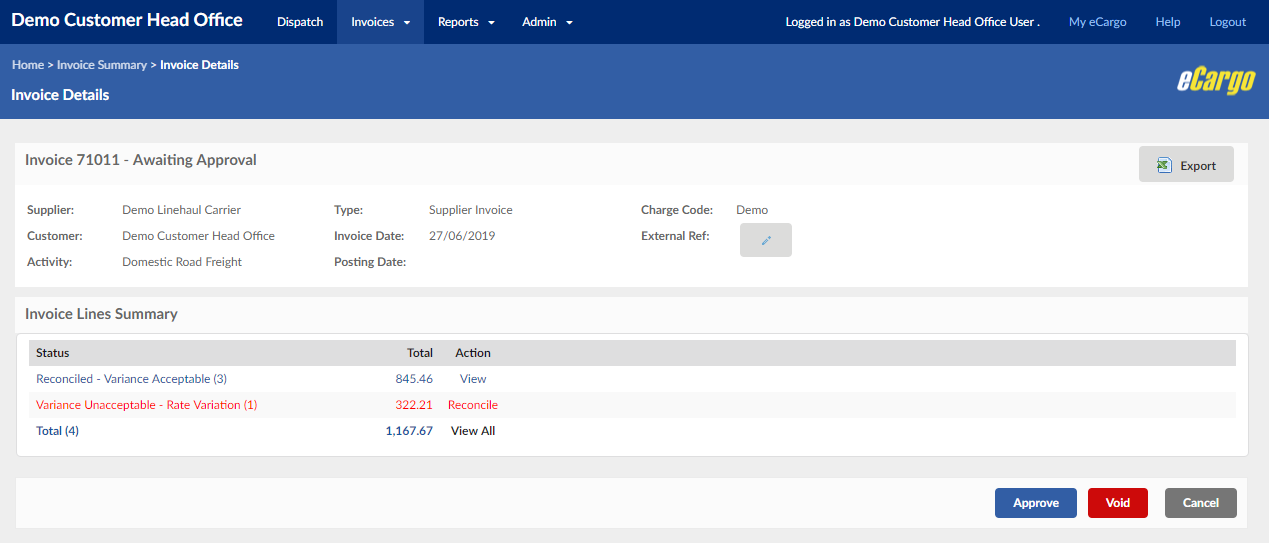 Clear workflow for creating, reconciling and approving invoices
Simple dashboard for invoicing and managing exceptions

Detailed rate error management and diagnosis

Buyer created invoicing
Create legal invoices in PDF & CSV formats

Automate sending of invoices to customers and suppliers
Custom logos and templates

Import and reconcile supplier invoices:

Reconcile invoiced vs rated amounts
Customise allowed variances

ERP integration to automate payment processing & settlement

Supports management of G/L, vendor and customer coding